14. August 2014
4
14
/

08
/

August
/

2014
13:01
Nobel laureates condemn Israeli action
Nsnbc Online
Several Nobel laureates, including Archbishop Desmond Tutu and Mairead Maguire, are calling for an arms embargo against Israel over the ongoing aggression against the Palestinian Gaza Strip that has cost over 548 Palestinian lives and injured over 3,000 so far.
In an open letter, the sixty-four signatories denounce Israel for once again to use its full force against the captive Palestinian population, particularly in the Gaza Strip. The signatories describe Israel's ongoing military operations as inhumane and illegal act of military aggression.
The signatories argue, that an arms embargo against Israel is the right approach to reducing Israel's ability to launch such devastating attacks as those seen in the Gaza Strip in recent days.
The South African Nobel peace laureate Desmond Tutu repeatedly compared Israel's policies toward Palestine with South Africa's Apartheid.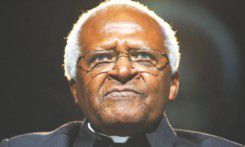 Published by Alamgirkingpin