14. Februar 2016
7
14
/

02
/

Februar
/

2016
20:00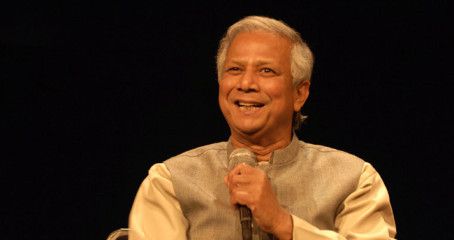 Yunus to receive highest US civilian award
Honoured for lifetime achievements in poverty alleviation
Star Online Report
Prof Muhammad Yunus. Photo: Yunus Centre
Prof Muhammad Yunus. Photo: Yunus Centre
Nobel Laureate Dr Muhammad Yunus will receive Congressional Gold Medal, the United States' highest civilian award, on Wednesday, according to the Yunus Centre.
The Bangladeshi microcredit pioneer will be given the honor at a joint session of the US Congress in its capital, Washington DC. John Boehner, Speaker of the US Congress, will hand over the award.
Prof Yunus is currently in the USA to receive the prestigious US award.
US President Barack Obama earlier awarded Yunus the President's Gold Medal.
According to sources at the Yunus Centre, the Nobel Laureate is scheduled to deliver a speech afterwards on issues like social business and poverty elimination.
In a short statement from New York, Dr Yunus dedicated this honor to the people of Bangladesh.
Since the American Revolution in 1776, the US Congress has commissioned gold medals as its highest expression of national appreciation for distinguished achievements and contributions to humanity. The medals are given to honour individuals, institution or an event who are widely acclaimed by Americans for their sacrifice and contributions.
"Dr Yunus is being honoured for his lifetime achievements in the cause of alleviating poverty in Bangladesh and globally. Through his creative ideas, hard work and brilliant implementation of the idea of microcredit throughout Bangladesh and globally, Prof Yunus has made brilliant contributions in the cause of helping millions of poor, especially women, take charge of their lives to overcome heartbreaking poverty," said Yunus Centre.
Since sharing the 2006 Nobel Peace Prize with Grameen Bank, Professor Yunus has redoubled his efforts to build a global consensus around the idea that business can be used for good works—coining the term "Social Business" to describe businesses that shun the profit maximisation motto and instead commit themselves to solve societal problems such as poverty, hunger, illiteracy, environmental degradation, among others, it said.
Published by Alamgirkingpin