6. Juni 2010
7
06
/

06
/

Juni
/

2010
19:15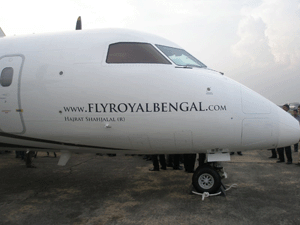 Royal Bengal is airborne, as the company launches its first scheduled flights!
January 31st 2008

Royal Bengal, the first 'truly' British Bangladeshi Airline has completed its domestic infrastructure set-up and has officially launched its full domestic passenger service in Bangladesh on Thursday 31st January 2008. Royal Bengal's first aircraft 'Hazrat Shahjalal RA' successfully flew into Zia International Airport in Dhaka, October 2007. Since then, extrinsic obstacles relating to the negotiations of soaring oil prices and the sudden change in regulations on customs and taxation on imported aircrafts in Bangladesh delayed the launch of its services.

A company spokesperson said; "The Directors of Royal Bengal would like to thank their Investors, the Media and the public for their outstanding support, patience and tremendous resolve.".
Published by Alamgirkingpin